> TRIPLE TUBE PASTEURIZERS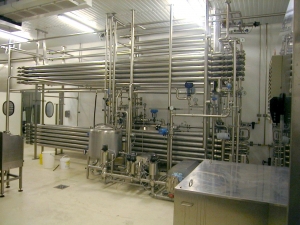 TRIPLE TUBE PASTEURIZERS
For food safety and commercial reasons it is very important to guarantee an egg product of bacteriologically superior quality without coagulation.
The triple tube pasteurizer offers a whole range of possibilities for pasteurizing whole egg and yolk (with a reduced capacity) as well as the albumen and fresh, liquid products.
The temperature of the pasteurization and the required heating time are to be chosen considering the quality one wishes to obtain. An electronical system monitors the temperature of the product, registers the pasteurization temperature and the temperature of the product at the exit of the pasteurizer.
Such a pasteurization system enables a processing time of 6 to 7 hours without cleaning interventions.
Download the Triple tube leaflet for further details.
BACK