> STORAGE AND MIXING TANKS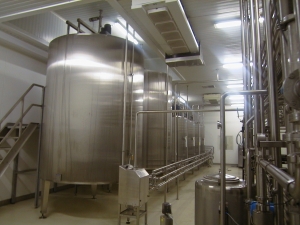 STORAGE AND MIXING TANKS
The raw egg product is best stored in closed, refrigerated and insulated stainless steel tanks until pasteurization.
The capacity of the tank(s) will be calculated in function of the production capacity of the plant. The tanks are equipped with an agitator in order to maintain the product in suspension and to have a good cooling efficiency through the contact with the cold wall of the tank.
If at this level sugar or salt is added, the agitator should be replaced by a mixer with variable speed and an adapted design of the propellers according to the kind of product and the quantity which has to be incorporated. If salt is added, the stainless steel in contact with the product should be type 316.
OVOBEL supplies vertical storage and/or mixing tanks of capacities ranging from 500 litre up to 30.000 litre.
OVOBEL supplies horizontal storage tanks of capacities ranging from 1.600 litre up to 7.000 litre.
Download the Tanks and Containers leaflet for further details.
BACK