> BABY FILLER TYPE B100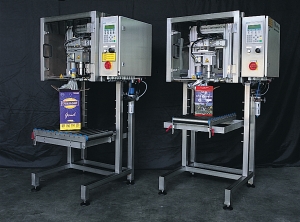 BABY FILLER TYPE B100
The Baby Filler type B100 is designed for non-aseptically filling Bag-In-Box and buckets from 1 to 25 litre. It is a semi-automatic filling system which can be used for the filling of liquid products in all types of bags with every type of cap. Thanks to its universal frame it is possible to fill the bag with or without the box.
The accurate flow measurements allows the bags to be filled with high accuracy. By means of display faults and errors can be traced quickly. On the display one can choose the filling volumes, keep up to date the filled amount and when the machine needs service.
Download the Baby Filler B100 leaflet for further details.
BACK