> SHELL TRANSPORT TOWARDS THE CENTRIFUGE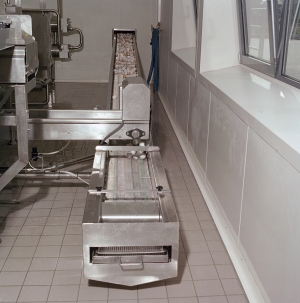 SHELL TRANSPORT TOWARDS THE CENTRIFUGE
After breaking the empty eggshells can be transported to the centrifuge. This can be done with the aid of a stainless steel conveyor belt.
There are 2 models :
CBG-300 : 300mm wide

CBG-600 : 600mm wide (for larger capacities)
All models can be furnished with a frequency controller (optional).
The length of the shell conveyor depends on the position of the centrifuge compared to the egg breaking machines.
Download the Shell Transport leaflet for further details.
BACK