> SHELL TRANSPORT FROM CENTRIFUGE TO SHELL CONTAINER OR EGGSHELL DRYER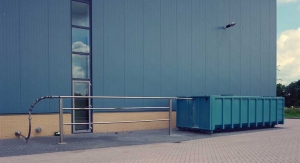 PNEUMATIC TRANSPORT SYSTEM FOR EGGSHELLS TO SHELL CONTAINER OR EGGSHELL DRYER
After centrifuging the eggshells, they can be transported to a shell container inside or outside the building.The transport pipe is made of stainless steel. The diametre depends on the transport distance and breaking capacity.
OVOBEL has installed many egg transport systems all over the world for capacities from 20.000 up to 30.000 eggshells per hour with transport lengths from 10 up to 120 metres.
Download the Pneumatic Shell Transport system leaflet for further details.
BACK