> COENRAADTS SEPARATING MACHINES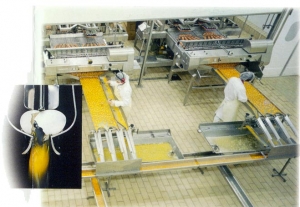 SEPARATING MACHINES
The Coenraadts egg breaking machines can be equipped with a separation unit. The separating machines can be dismantled quickly, so they are also suited for smaller quantities. They are made in stainless steel which makes the cleaning easy.
Due to the elaborate driving with powergrip toothed belts there is no need for oil baths nor maintenance. The finish is compact and modern and the system can be delivered with or without wheels.
A few years ago the revolutionary computer controlled system called the ALBUMASTER® was developed. The ALBUMASTER® provides not only a high yield of pure egg yolk (with solids up to 46%) but especially the purest egg white.
To see the ALBUMASTER® in operation, please contact us.
OVOBEL supplies the following separating systems:
>
Manual separating unit
>
Standard separating unit
>
Automatic separating system ALBUMASTER
BACK