> COENRAADTS EGG BREAKING MACHINES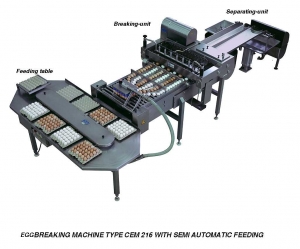 Since more than 40 years OVOBEL supplies automatic egg breaking and separating machines, manufactured by the company Coenraadts.

Today several hundred machines are working all over the world. Because of the continuous research and several improvements, these machines are the most efficient and reliable available at present.

The most important features of the Coenraadts CEM egg breakers are:
High yield: A minimum loss of product with the shells. All eggs will be loaded and no unbroken eggs will be evacuated with the empty shells.
Simple: The machine doesn't need frequent adjustment, as is the case with most other machines on the market.
Reliable: The machine has a minimum of moving parts, which are working in an oil-bath and therefore requiring no maintenance. For the same reason there is hardly any need for spare parts.
Hygienic: The machine is built in stainless steel and easy to clean.
There are 3 models on the market:
>
CEM 108
>
CEM 216
>
CEM 432
>
OPTIONS FOR EGG BREAKING MACHINES AND LOADING SYSTEMS
BACK