> ASEPTIC FILLING MACHINES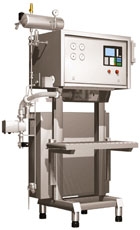 ASEPTIC FILLING MACHINES
What kind of products are filled ASEPTICALLY?
All sterile liquids which are liable to recontamination require an aseptic filling system.
This could apply for many different products, as for example:
Egg products
UHT dairy products
Pharmaceutical liquids
Baking ingredients
Sauces
Fruit juices and concentrates
What is BAG-IN-BOX?
Bag-In-Box is a filling system developed especially for liquids of all viscosities. The liquid is filled into a flexible, synthetic bag or liner, which is fitted with a resealable opening. The bags can be used with various types of secondary packaging: cardboard boxes, plastic crates, metal containers, tanks etc.
Download the Filling Machines leaflet for further details.
>
Bag-In-Box type B200/B400
>
1L filling machines
BACK