> AUTOMATIC CLEANING SYSTEM FOR SUCTION HEADS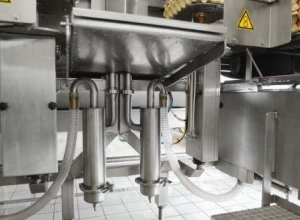 AUTOMATIC CLEANING SYSTEM FOR SUCTION HEADS
Advantages:
Increased production, since the suction heads do not have to be cleaned manually anymore
Less eggs which are located "double" on the roller conveyor. Result: better breaking performance and less shells in the product
Less wearing of the suction bellows, suction plates and bellow holders
Vacuum pumps remain cleaner, so that the suction capacity remains the same and the vacuum pumps last longer
The system is operated by the PLC of the loader by modifying the existing program. It can be supplied as an option to a new machine of later installed on an existing machine.
BACK