> AUTOMATIC SEPARATING SYSTEM ALBUMASTER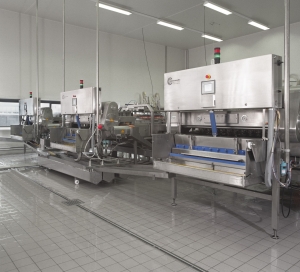 AUTOMATIC SEPARATING SYSTEM ALBUMASTER®
ALBUMASTER® - Since several years Coenraadts started with the research and development of an automatic separation system using the latest scanning tecnologies.
This revolutionary computer controlled separating system provides a high yield of pure egg yolk and especially the purest egg white and only 5-10% egg white with traces of yolk, which can be used to bring down the high solids in the egg yolk to a commercial standard.
The ALBUMASTER® system can be adapted to ALL existing Coenraadts breaking machines.
To see the ALBUMASTER® in operation, please contact us. We will be more than happy to show you all the possibilities this separating system has to offer.
You can also download the ALBUMASTER® leaflet for further details.
BACK