> CONTINUOUS SCRAPER FILTERS TYPE CF3000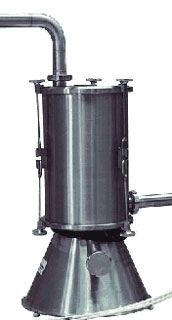 CONTINUOUS SCRAPER FILTERS MODEL CF3000 OR CF3000-W
This self-cleaning and continuous filter has been specially designed for the food industry in general and for the egg processing industry in particular. The continuous rotating scraper system inside the filter will keep the filtering surface permanently clean.
Because of the extremely simple dismantling, the filter can be completely cleaned and disinfected in a few minutes.
The CF-3000 is entirely made of stainless steel and of sufficient thickness to prevent deformation. The installation is made in-line and does not require any supervision. When installed with the pumping and reception unit of Coenraadts, the filter will operate without incorporation of air which will improve the quality of the product.
Download the CF3000 and CF3000-W leaflet for further details.
BACK