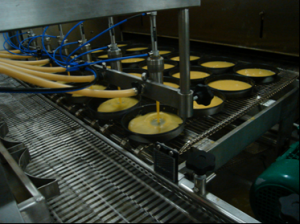 EGG OMELETTE MACHINE
OVOBEL supplies omelette machines of different capacities: 750, 2.000 and 5.000 omelettes per hour.
Download the Egg Omelette Machine leaflet for further details or have a look at the machine in action.
We have a small test oven that our customers can use, free of charge.
We guarantee that the quality of the cooking of the omelet is the same as in our large ovens.
This oven is also for sale.
Interested? Please contact ovobel@ovobel.com .
More details in the leaflet.