> WITH AUTOMATIC SUPPLY TABLE TYPE CEO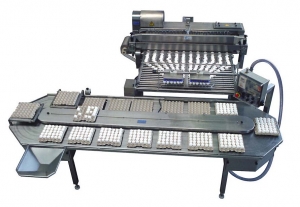 EGG BREAKING MACHINE CEM 432 - WITH AUTOMATIC SUPPLY TABLE TYPE CEO
The egg breaking machine CEM 432 can be equipped with an automatic supply table onto which trays of 30 eggs are placed one by one by an operator. The eggs will be lifted off from the tray by suction and transported onto a roller conveyor. This roller conveyor transports the eggs to the breaking mechanism in the egg breaking room.
Download the CEM 432 leaflet for more technical details.
The eggs can be washed and disinfected during this transportation. Find all details of this by clicking on 'Egg washing machines' in the Products list.
BACK