> MIXERS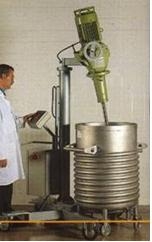 MIXERS FOR PROCESSING SUGARED/SALTED OR OTHER VISCOUS EGG PRODUCTS
OVOBEL supplies following models:
Model HS-1500 - a 1.000 kg (250 gallon) mixer/blender of type 304 stainless steel construction
Model 10/20 series - the direct drive technology forms the most important feature of the 10/20 series. A variable speed gear ensures that there is the desired reduction factor with electric or pneumatic drives.
This model can be equipped with remote control, if required.
The flange model mixers can be easily attached to the opening of the tanks.
Download the Mixer leaflet for further details.
BACK